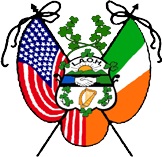 Friendship, Unity and Christian Charity
Upcoming Events to Keep in Mind
ENJOY YOUR SUMMER!
Wednesday September 13th 7:10pm
Division 14 - Watertown - Red Sox vs Toronto Blue Jays at Fenway Park
Division 14 Watertown has a block of tickets for the Boston Red Sox vs. Toronto BlueJays game on Wednesday September 13. These seats are all together in Grandstand section 26 on the third baseline under the cover. These tickets are valued at $71 but we are selling them for $50 per ticket, first come, first served, while supplies last. Our parking lot is within walking distance (about 1/4 mile) to the 57 bus which will take you right to Kenmore Square. Please feel free to stop in before or after the game. If anyone is interested in tickets, please have them contact me directly at laohdivision14@hotmail.com

Friday September 15th 7:00-11:00pm
Division 1 - Lowell - A Night at the Races
"A Night at the Races" will take pleace at the American Legion Post 313, 90 Groton Road, North Chelmsford, MA (take exit 33 off Route 3 North). An inexpensive evening of fun and surpirses. All are welcome.
Saturday September 16th 12Noon - 4:00pm
Division 8 - Lawrence - Family and Friends Outing
Division 8 Lawrence will be hosting their Annual Family and Friends Cookout at the Greater Lawrence Community Boathouse, 1 Eaton Street, Lawrence, MA. There will be Irish music, boat rides on the Merrimack River, an Irish Bread contest and fun and games for the children. The McTaggerts will play from 12:30pm to 4:00pm. A Mass on the grounds of the cookout will follow at 4:00pm celebrated by our Chaplain, Rev. John Delaney. Ticket are $12 for ages 13 and above, children 12 and under are free. For tickets and more information please contact Sue Fink (978) 376-2918 or Bill Sullivan (978) 376-4356. The last day to order and pay for tickets is Wednesday September 13th.
Sunday September 17th 11am
Division 14 - Watertown - Columan Fathers
The Columban Fathers will be speaking at Division 14 at 11:00 am on Sunday, September 17th. All are welcome to attend. Saint Patrick's Church in Watertown has a 10:00 mass, so if anyone wanted to attend mass in Watertown that day they could make it to the club in time for the talk with the fathers. A light collation will be served. The plan is for this to be concluded before the Patriots kick-off at 1:00 pm. All are welcome to stay and watch the game. We hope you can make it.
Monday September 25th 4:00-5:00pm
University of Massachusetts Lowell Center for Irish Partnership

On Monday September 25th. Dr Tomas Mac Conmara will be at the UMass Club for a special presentation on the "Days of Hunger: Mountjoy, Thomas Ashe and 5 days that changed the course of Irish History" This lecture will focus on the Irish political landscape in 1917 and examine the impact of the hunger strike and in particular the death of Ashe. There will be a reception following at the UMass Club, 1 Beacan Street, 32nd Floor, Boston, MA 02108. Please RSVP to Victoria_Dennon@uml.edu before September 19th.
Saturday October 14th 6:30pm
Division 1 - Lowell - Half Way to St Patrick's Day Show

The "Half Way to St Patrick's Day Show" staring Deirdre 'Dee' Reilly to benefit the AOH and LAOH Scholorship Fund will start at 7:00pm. Cocktails at 6:30pm. Lowell Lodge of Elks, 40 Old Ferry Road, Lowell, MA. Tickets are $25, please contact Kathy Gauthier (978) 251-8923, Steve Daly (978) 204-4723 or Charlene Cesarz (978) 459-7303.
Saturday and Sunday November 25th & 26th
Division 8 - Lawrence - Tribute to the Manchester Martyrs

To commemorate the 150th Anniversary of the Manchester Martyrs, Division 8 will hold a "Tribute to the Manchester Martyrs" on Saturday, November 25th and Sunday, November 26th. More information will be available soon.
TDB Mid November
Division 1 - Lowell - Hibernian Mass and Communion Breakfast

Lowell will be hosting a Hibernina Mass and Communion Breakfast. More information will be available soon.
MISC
Division 1 - Lowell - Mercy Fund Calendar Fundraiser
Lowell is hosting a Mercy Fund Calendar Fundraiser for the continuation of grave markers for Irish Immigrant familes buried in St. Patrick's Cemetary without marks. Tickets are $10 each or 3 for $20. Winners will be drawn at their December 6th meeting.